Book Fair/Garden Family Night!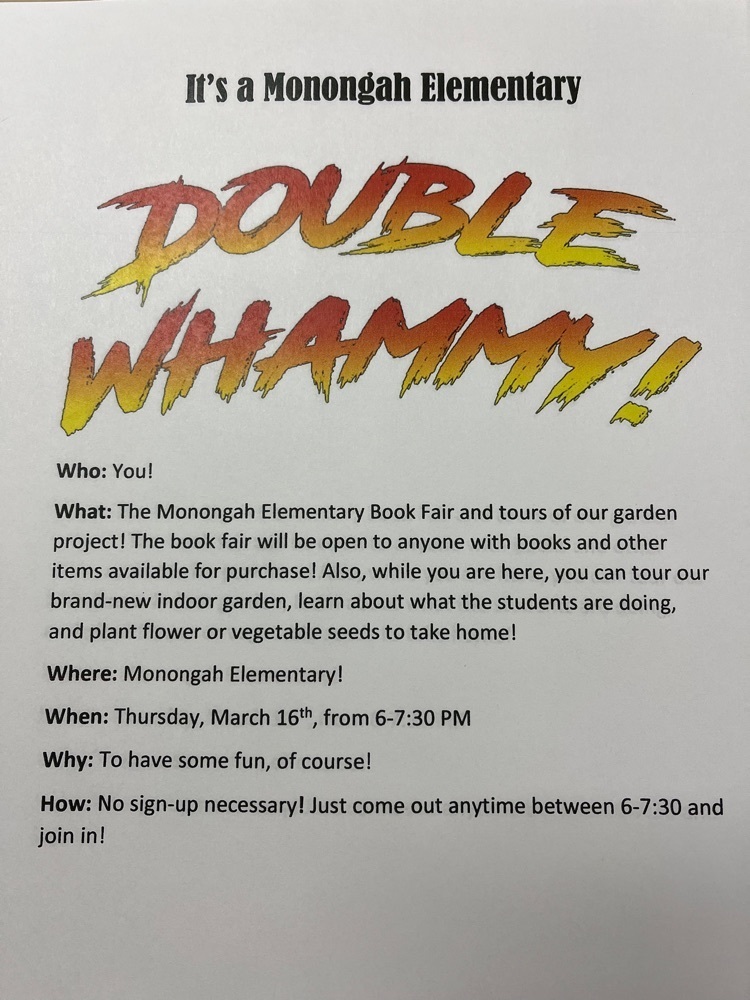 Book Fair @ Monongah Elementary this week! Students can shop Monday - Thursday during their scheduled times. Parents can send cash or use our new EWallet to send money electronically using a credit or debit card. Go to this website to learn more about EWallet.
https://www.scholastic.com/bf/monongah
Book Fair will also be open during Family Night on Thursday (3/16) from 6-7:30. Credit Cards, Cash, or EWallet will be accepted during Family Night.

LSIC Town Hall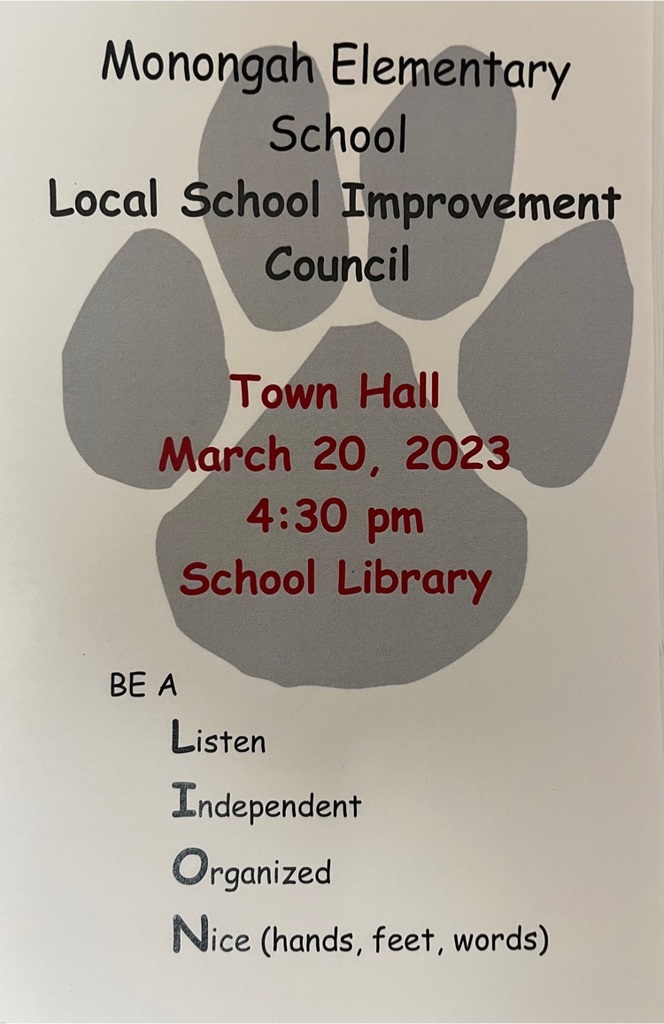 Lawyer In the School, Richard Morris, will be at Monongah Elementary on Thursday, March 2 @ 3:00. If you have legal questions, stop in to see him. No appointment necessary.

Read Across America Week - Spirit Week starting Tuesday @ MES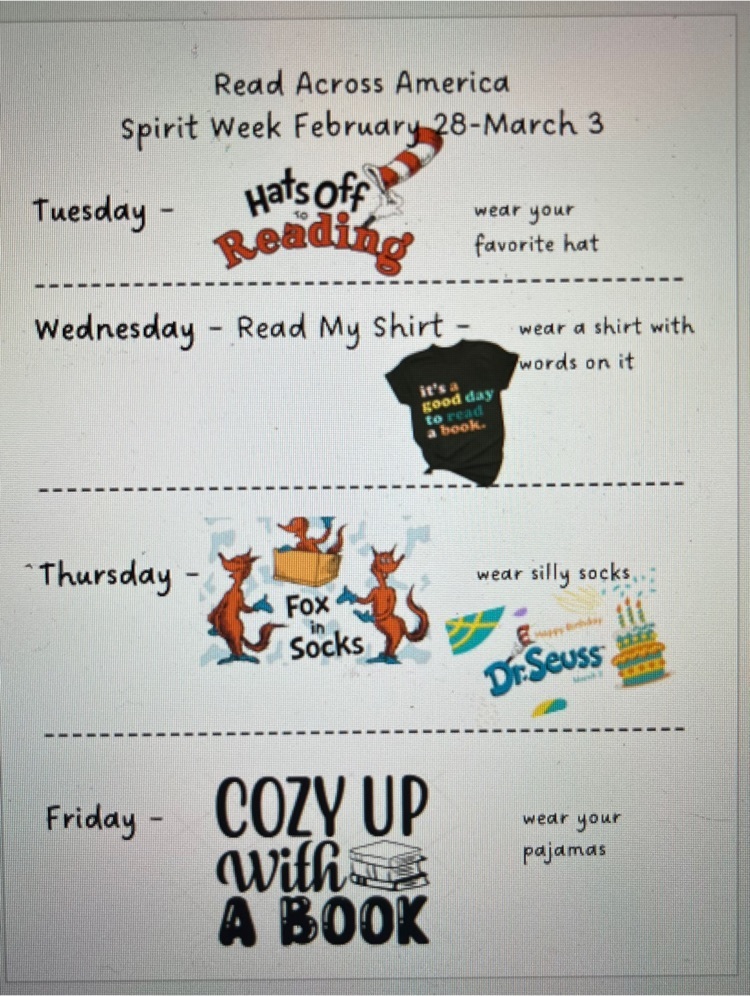 This week is Kindness Week at MES! Many activities promoting kindness are planned! Ask your child specifically about the kindness activity of the day.♥️ Also, remember to sign up for Family Fitness Night. Thursday 6:00-7:30 Return the form, send a note or call the school to do so by Wednesday morning. Don't miss out!!! Remember...Kindness costs nothing!

Boil Water Advisory has been lifted. Monongah Elementary students WILL be back in school tomorrow, Thursday, January 26. Lunch will be chicken drums, mashed potatoes, green beans and milk

Wednesday, January 25. Monongah Elementary Only. Due to continued water issue, staff ONLY will report to school. NO students.

Wednesday, January 25 is a scheduled 2 hour delay for students. The water issue at Monongah Elementary has been fixed, however, we are in a boil water advisory. PLEASE send a full water bottle with your child tomorrow. The board office has provided us with bottles of water, but we do not want to exhaust this supply. Thank You! 🐾

Lawyer in the School will be at Monongah Elementary Wednesday, December 7 from 3:00-4:00.

Fundraiser items where delivered today. Items can be picked up today (Tuesday) between 4:00-5:30 or tomorrow (Wednesday) 9:00-4:00. For other arrangements, call the school.

Lawyer in the School will be at MES Wednesday, 11/2/22 from 3:00-4:00. No appointment needed.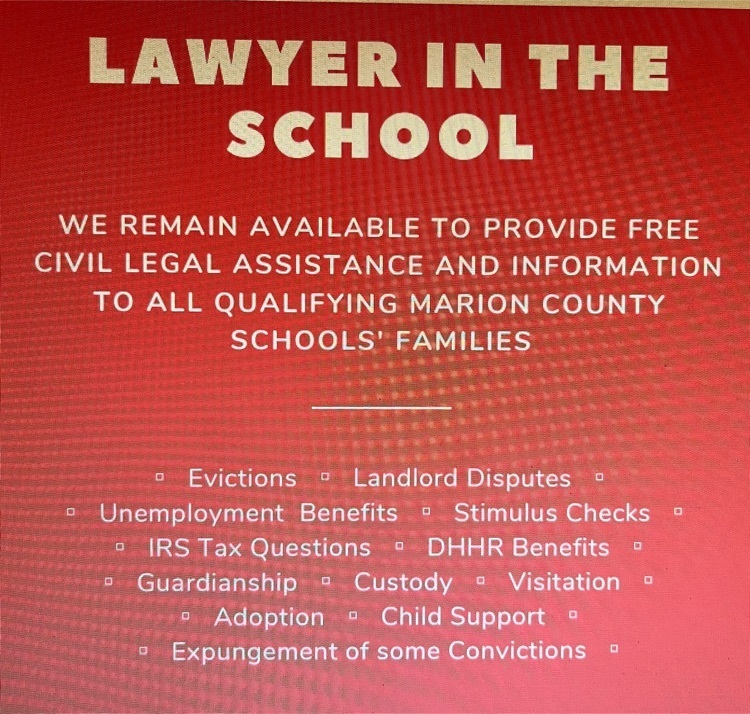 Monongah busses are running late due to an accident. They are running. If you cannot bring your child , be patient.

K-4 Halloween parade Friday, October 28 @ 1:30 🎃

Monongah Elem is in need of volunteer readers to read in a classroom once a week. Read Aloud WV provides an easy online training to prepare volunteers. For more information, go to Read Aloud website Volunteer Readers - Read Aloud WV or contact Ms. Boggs at MES.

Reminder Monongah Elementary fundraiser orders due tomorrow. Checks made out to Monongah Elementary. Thank you to all who participated!

Reminder - Monday, October 10 is a PL Day for staff. No school for students!!

Fundraiser checks are made out to Monongah Elementary. PreK will get their packets today.

MES Findraiser for window coverings (safety) and playground update begins today. Your child brought a packet home (PK Monday). Please help as much as you can! Thank You!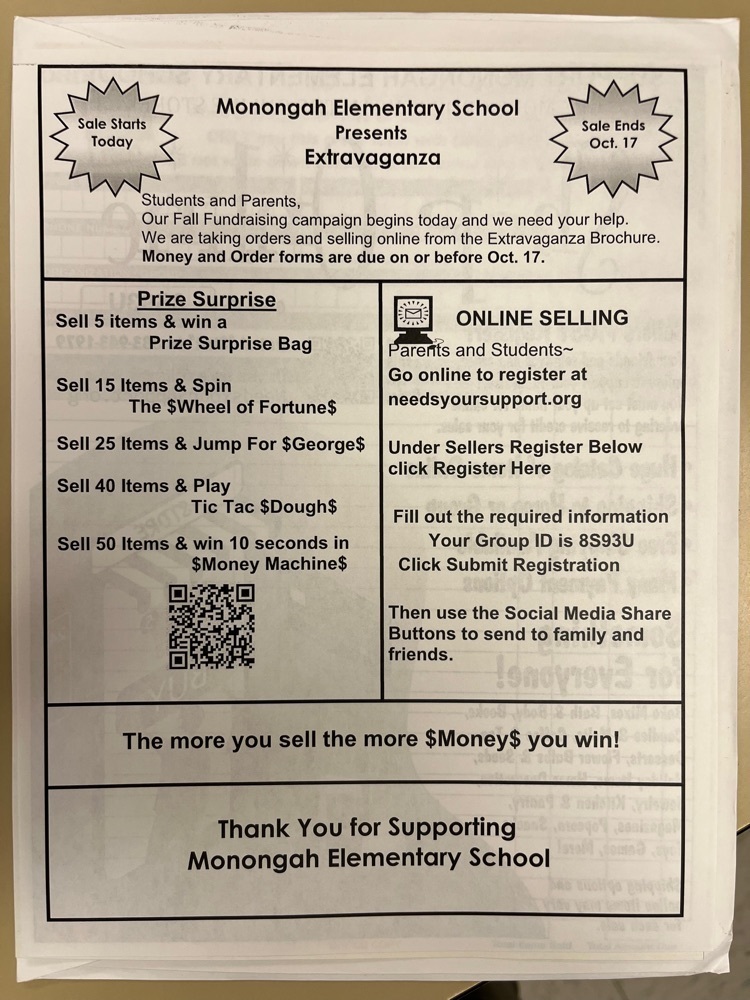 Affordable Connectivity