ADDRESS
1858 Valley School Road
Fairmont, WV 26554

PHONE
304-367-2148
FAX
304-367-2175
ADMINISTRATION
Principal- Mrs. Kimberly Middlemas
Secretary- Mrs. Nicki Michael
Counselor- Mrs. Lisa Boyle
Nurse- Mrs. Faye Parker
CLASSROOM TEACHERS
Kindergarten- Mrs. DeBalski
Kindergarten- Mrs. Pethtal
1st Grade- Mrs. Corley
1st Grade- Mrs. Nuzum
2nd Grade- Mrs. Albertson
2nd Grade- Mrs. DeLancey
3rd Grade- Mrs. Burton
3rd Grade- Mrs. Blankenship
4th Grade- Mrs. McQuain
4th Grade- Mrs. Zorik

SPECIALISTS
Music- Mrs. Oates
Physical Education/ Health- Mr. Kisner
Media/ Library Specialist- Miss Young
Speech Therapist- Mrs. Rowand
Special Education- Mrs. Pletcher


SCHOOL SERVICE PERSONNEL
Kindergarten Aide- Mrs. Moore
Kindergarten Aide- Mrs. Martin
Special Education Aide- Mrs. Lee
Cafeteria Manager-
Cook- Mrs. Tammy Boyce
Custodian- Mr. Chris Thompson
Our students took part in a virtual program on Friday, September 10, to commemorate the 20th anniversary of the events that took place on September 11, 2001. The third and fourth grades learned multiple songs to perform and pre-recorded the music. In the afternoon on September 10, all teachers logged onto a site and we watched the program at the same time throughout the school. We would like to share our program with our families that were unable to be here in person to watch. Hope you enjoy!
We were also featured in the paper for our anniversary program. Click here if you would like to view the article.
​COVID Guidelines Updated 9-3-21
IF your student is tested for Covid 19
First LET THE SCHOOL KNOW

The student is to STAY AT HOME until the results are known.

If POSITIVE- LET THE SCHOOL KNOW and follow the County Covid-19 Guidelines as stated on the Board of Education website
2021- 2022 Professional Learning/ Faculty Senate Dates (Full Day):
October 11 (Monday)

December 22 (Wednesday)

February 18 (Friday)

March 21 (Monday)

April 14 (Thursday)
If we would have a 3 Hour Early Dismissal the following times will be observed.
Walkers will be dismissed at 11:50

Car riders will be dismissed at 11:55

Buses will be dismissed at 12:00
NOVEMBER 22, 23, 24, 26

December 23, 27, 28, 29, 30

April 15, 18, 19, 20, 21
These days are used to make up canceled instructional days (Snow Days). Please see Marionboe.com for the order of making up lost instructional days.
All students grades 1-4, should have their Chromebook, if not please contact the office so we can get it to you. If you experience any issues with your Chromebook, please notify the school office or classroom teacher for assistance. Please remember "The Acceptable Use Policy" applies to all School devices including Chromebooks being used at home. The use of appropriate language/ actions on devices is expected at all times. Remember to completely turn your Chromebook off when finished, closing the lid will not shut it down and will run the battery out. Go to the bottom right, click on the clock and select the power button at the top of the menu to shut it off. We appreciate your support and understanding as we begin the new school year. Thank you!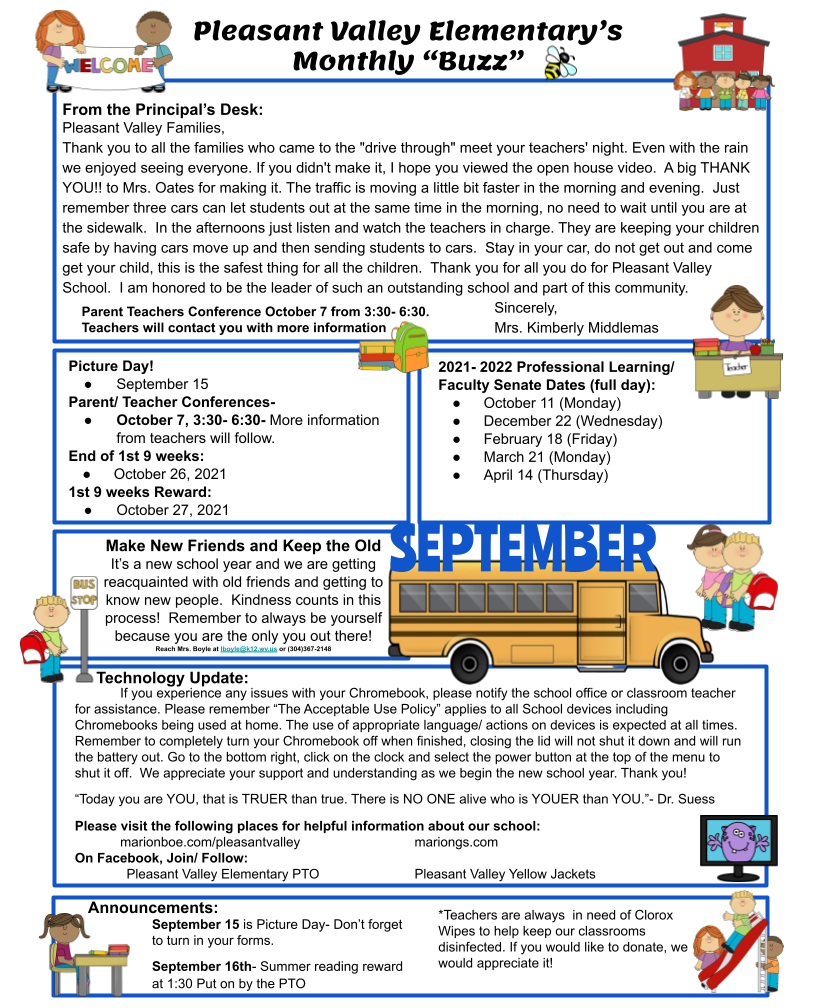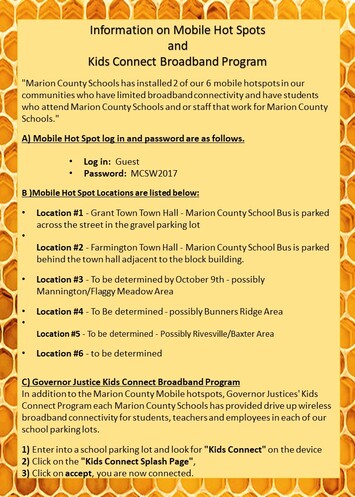 PLEASANT VALLEY SCHOOL - WHERE CHILDREN COME FIRST
Bee- lieve we are...PV!