Attention Lady Polar Bears: Have you ever had dreams of working in the aviation field? See the flyer for an opportunity to look at the field of aviation for women. Go Bears!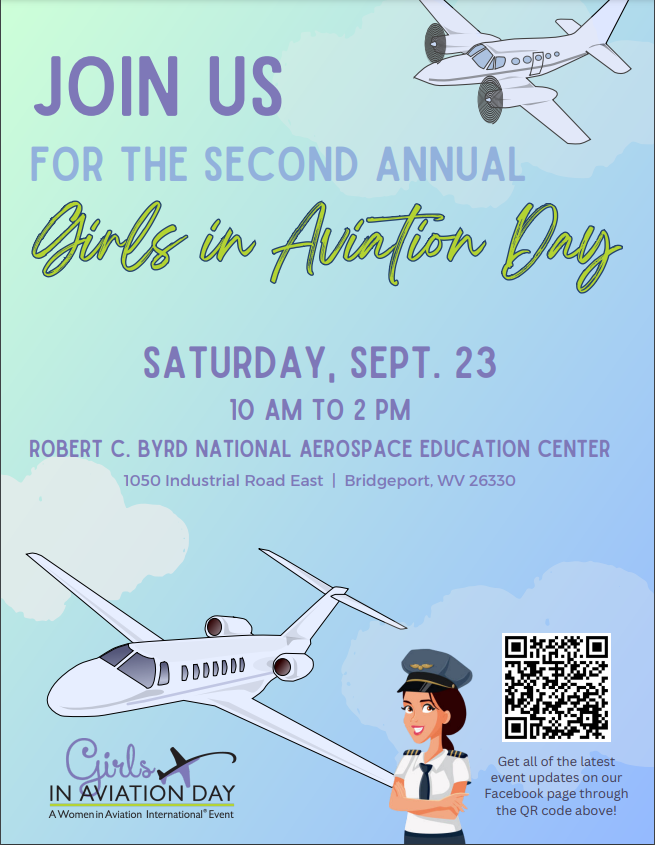 Big news, Fairmont Senior High students! You can travel to England with me in Summer 2025! Register for the information meeting to learn more about this exciting opportunity here: bit.ly/3LezaS3 -Mrs. Loudermilk Neither the Marion County Board of Education or any of its agents or employees sponsor or endorse this club/group/organization. The views expressed may or may not reflect those of the county or school administration are neither approved or disapproved by them.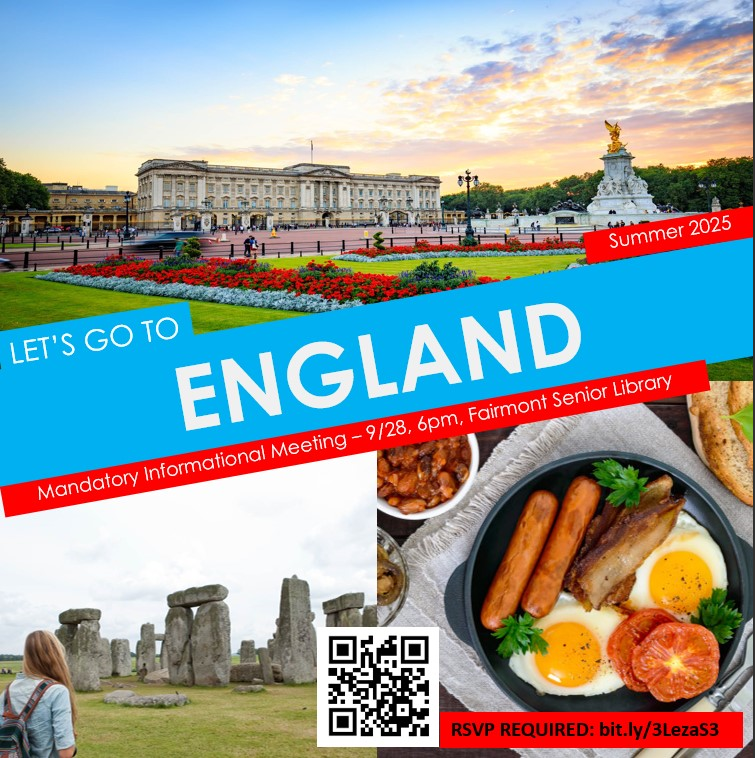 Attention Parents of Senior Polar Bears: Fairmont State is hosting a college fair tour Thursday, November 9 at the Falcon Center. With nearly 40 colleges, this is a great resource for seniors to meet with admissions officers from a wide variety of schools. We will be taking buses during the school day from FSHS to FSU. A permission form for this trip is being distributed in homeroom Wednesday, September 20. Thank you and Go Bears!

Attention Polar Bears: Academy Day is an opportunity for students, parents, and school officials to ask questions and obtain information regarding the U.S. Air Force Academy, U.S. Coast Guard Academy, U.S. Merchant Marine Academy, U.S. Military Academy and the U.S. Naval Academy as well as the Dept. of Defense Medical Examination Review Board, the Air Force and Army ROTC scholarship process. Navy ROTC will be present at the September 24, 2023 event. We will also conduct mock interviews. No Registration Required. An appointment to a U.S. Service Academy is a fully funded education opportunity valued from $240,000 to more than $400,000. It is important that students are proactive especially from 9th grade in order to meet and exceed the requirements. Don't Miss Academy Day at Bridgeport High School this weekend – Sunday, September 24, 2023 @2 PM! Bridgeport High School 515 Johnson Avenue Bridgeport, WV 26330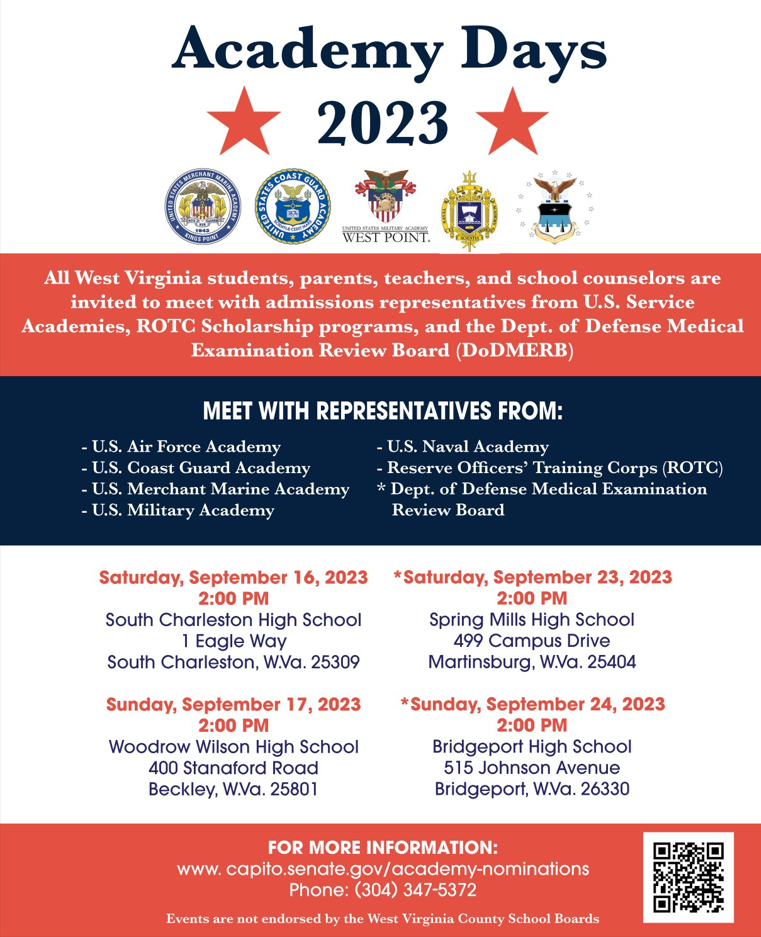 FSHS Community, –We apologize for the confusion in accessing school pictures. We believe at this point you should be able to access student images by going to
Http://www.JostensPix.com
–If you already have an account, you might be able to access your student's images upon signing into that account. However, if you have to make an account, or if your student is not appearing on your existing account, navigate to the bar across the top of the website that says "Find Your Student?" –You can use the event code FE237823 and your child's full WVEIS number to add your student to your account. – We are aware that some accounts have access to the wrong students, that some students are in the system multiple times or mislabeled by grade. These issues must be fixed one student at a time for all 800 students, and that is an on-going process. – If you cannot find your child's picture, please email Mrs. Meadows at
Marissa.Meadows@k12.wv.us
and she will do her best to assist you. –Make up pictures will be 10/3, and you can request a make up for your child on the JostensPix website.

Attention Polar Bears: The PSAT/NMSQT is the Preliminary SAT/National Merit Scholarship Qualifying Test. It will be administered at FSHS on October 24th. Please register with Mrs. Myers in the Counseling office by September 15th. The cost is $18. If you wish to pay the fee online, the link is below. You will still need to complete registration with Mrs. Myers.
https://marionboe.schoolcashonline.com/Fee/Details/1167/414/False/True



Attention Polar Bears: Tomorrow, Thursday, August 31st is picture day! Pictures will be taken in the auditorium during English classes. Seniors, this is your SENIOR yearbook photo so please dress your best!

Attention Polar Bears: Each year we support Marion County Teen Court in multiple ways. To be operational, MC Teen Court needs teen volunteers. Volunteer hours can be used toward graduation requirements and students will have scholarship opportunities for participating.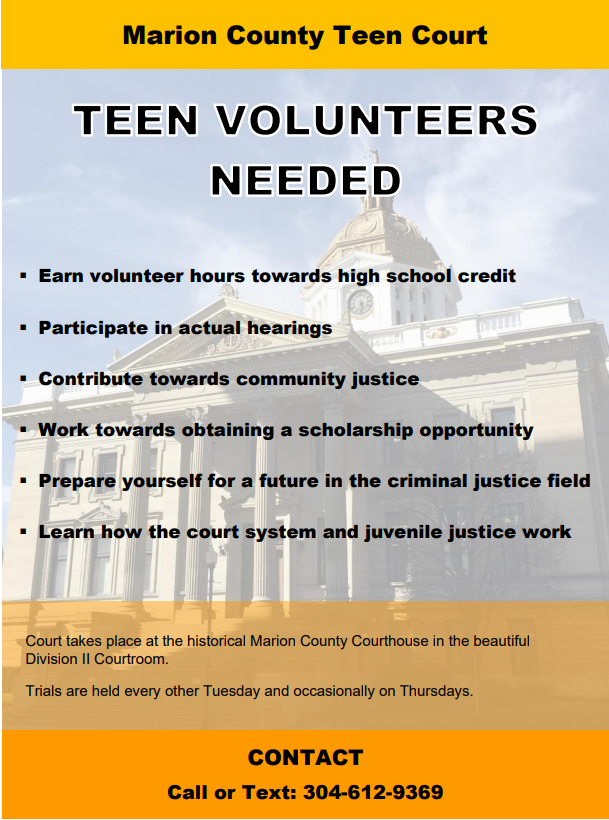 Attention Polar Bears: The FBI CJIS Division will be hosting the 2023 FBI Teen Academy at the Clarksburg, WV, campus on Tuesday, October 24, 2023, from 8 a.m. - 4 p.m. Teen Academy is a one-day hands-on program for current West Virginia High School Juniors and Seniors (2023-2024 school year). Teen Academy is a chance for youth to learn about the FBI and what a variety of career paths in the FBI would entail. Selected students are offered insight into a number of topics and specialties, including the importance of making good choices when using online communication platforms, federal law violations the FBI investigates, requirements of all FBI applicants, and the FBI's domestic and international roles. Students will also enjoy various hands-on experiences involving specialized areas of the FBI, such as our Evidence Response Team. After completing the class, students are more aware of challenges their communities face, better understand how the FBI serves their region, and are prepared to mentor their peers. Pick up an application in the Guidance Office– the deadline for completed applications is September 15. Applicants will be notified of their application status via email by October 2. Please feel free to contact Megan Root with further questions via email at
mrroot@fbi.gov
. We look forward to working with you!

Attention Polar Bears: If you have a rescue medication at school (including inhalers, EpiPen, seizure medication or diabetic) the medication AND doctor' orders must be here at school Monday morning. If not, your student will be sent home.

Attention Polar Bears: If you are a senior and interested in an education and career in healthcare, please look at the opportunity in October to meet with an educator and professional in the healthcare field...and you get to eat for free! Use the link below to sign up!
https://forms.office.com/r/0DuizAsqQu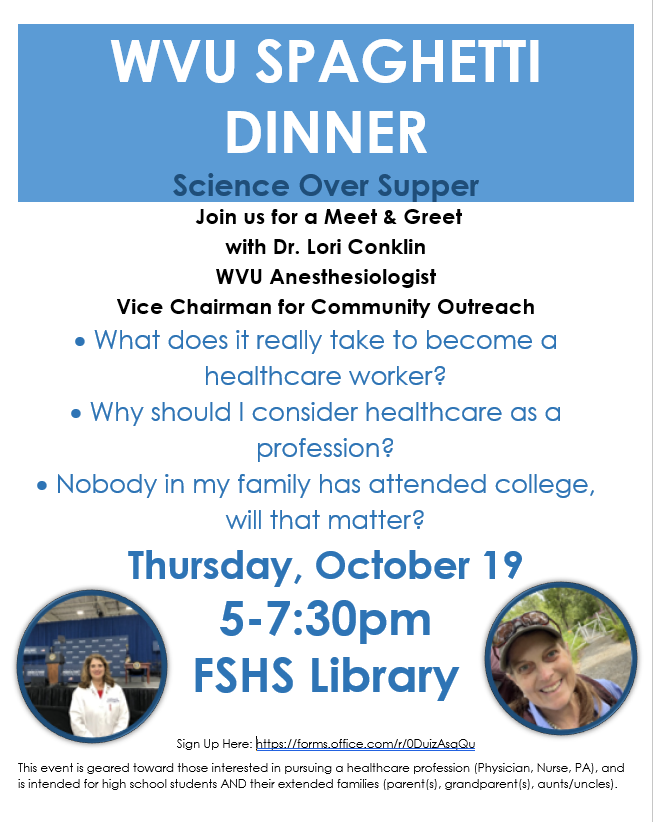 Attention Polar Bears: In cooperation with WVU Medicine Fairmont Medical Center, FSHS proudly presents Healthcare/First Responder Appreciation Night, Friday September 29 vs North Marion. To buy a t-shirt in support of this event, please use the link below to order online. Purchased shirts will be available 2 weeks prior to the game. GO BEARS!
https://marionboe.schoolcashonline.com/Fee/Details/1056/414/False/True
(updated link)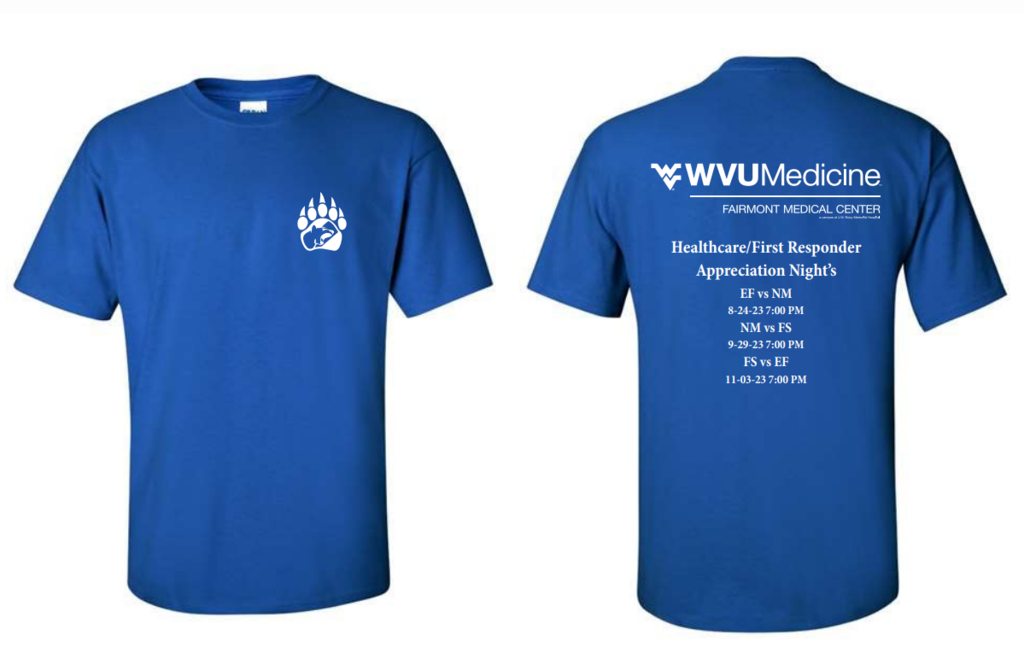 Attention Senior Polar Bears: Per state law, you must be properly vaccinated to attend school. There are still approximately 40 seniors who have not shown proof of vaccination. If you have proof, please bring that with you Monday morning. Thank you and Go Bears!

Attention Polar Bears: Tomorrow students return to school, so please charge your Chromebooks tonight. First bell is at 7:15am and class starts at 7:20am. We will go directly to homeroom to start the day. Parents, there will be a lot of paperwork coming home with your students, please return it to school with them asap. The best and safest drop off areas for students in the morning is along the back drive. Please do not come down the back drive in the afternoons between 2:00pm and 2:45pm. Thank you and Go Bears!

Attention Polar Bear freshman parents: Just a friendly reminder we will welcome you back on campus at 6:30 in the auditorium to meet with Principal Green and other staff members for a short Q & A session for the end of orientation. Thank you

Good morning Polar Bears: Today the secretaries all having training-YAY! Today the secretaries will all be off campus and unable to answer the phone and unlock the doors-BOO! If you come to the school there is a high chance nobody will answer the door buzzer as the rest of us are in training too. Please consider coming to FSHS Friday instead of Thursday if you need to be here in person. Thank you and GO BEARS!

Good morning Polar Bears. As staff returns today, if you need to come to the school for any reason, please call ahead. The Polar Bear staff will be in trainings all day Tuesday, Wednesday and Thursday. We wouldn't want you frustrated waiting at the door when nobody is available to meet with you. Let's Go Bears!

Attention freshman Polar Bears: Orientation at FSHS will be Thursday, August 17 from 4:00 to 7:00 pm. Freshman students are to be dropped off in the back drive (8th street) to be greeted by staff & current FSHS students. They will have a number of activities, tours of the campus, & even food, all organized and chaperoned by staff, Student Council & National Honor Society students. Parents are invited to return at 6:30 to the auditorium for a Q & A session with teachers, current students & admin. Orientation ends at 7:00 pm.