Blackshere Elementary: 2nd, 3rd, and 4th grade parents who got a letter and was accepted in the afterschool program this is a reminder that this program starts on Monday the 26th of September. Transportation will not be provided until October 5th.

Blackshere's Fall Festival is back this year! Come join us on October 22, 2022 for some fun and games. If you would like to help our PTO put on this wonderful event, we will be having a meeting on September 27th at 5:00 pm in our cafeteria.

Blackshere will be having a confidentiality training on October 3rd at 5:00 pm. To assist with class parties and attend field trips you must attend this training.

Blackshere's After School program will start on September 26th. The students that are in 2nd, 3rd, and 4th grade that have filled out the form to join this program are accepted. Kindergarten and 1st grade will not be able to attend due to limited staffing.

Blackshere Elementary - Confidentiality training will take place September 12th at 6:00 pm. To participate in field trips, classroom parties, etc. you must attend the confidentiality training. PTO will take place immediately after the training. Please plan on staying and becoming a part of our PTO.

Blackshere Families: During the period of Sept. 6-16, 2022, MCS will be administering a survey to students, teachers, and families. The WE SUPPORT Survey is designed to inform schools and districts about expectations and perceptions the community has about student learning. The survey is structured around three main areas: • Rigor • Relevance • Relationships To take the survey, parents/guardians do the following: • Go to
www.wesurvey.org
• Enter the case sensitive password that is unique to your child's school (copy > paste works best): CMC6BS •When all questions have been answered, click Submit for your responses to be recorded. Thank you in advance for completing this survey by Sept. 16, 2022. You need to complete one for each school in which your children are enrolled, using the code for that building above. The insight you provide will be valuable in our ongoing efforts to improve student achievement. WE SUPPORT survey takes 10-15 minutes to complete. Your responses are anonymous, so please answer all questions honestly. Please try to provide your perceptions and expectations of your child's school or district overall. Thank you.

If you did not receive your child's report card or if you have things left at school due to being absent the last days of school, you can come to the school in the month of June to pick those items up. Items will be kept in the office area.

Blackshere 1st grade families - We are trying to still keep our families safe due to the ongoing COVID pandemic. Thank you for honoring the 2 ticket guidelines we have put in place for todays music program. Make sure that you bring your tickets with you for entry.

Fairmont State Youth Basketball Camp will be held June 6th - 9th from 9:30 am to 2:30 pm for grades K-8th. Lunch and T-Shirt are included. Register at: falconmensbasketball.totalcamps.com. If you have questions contact Donald Kummer at
dkummer@fairmontstate.edu
(304)476-5414.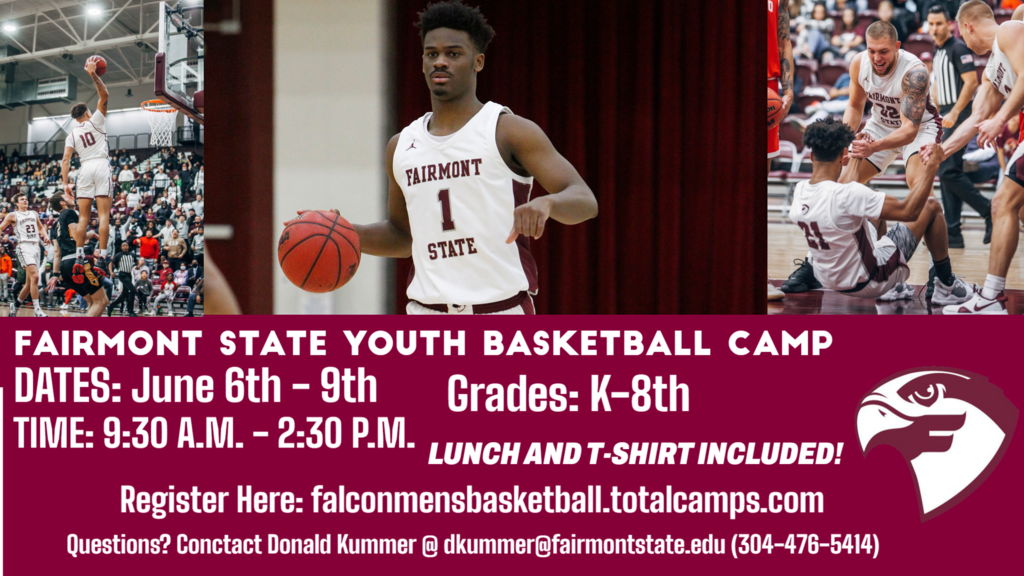 Blackshere Families: There will be No school tomorrow 5/10/22 due to Election day polling at Blackshere School.

Blackshere Families: Due to Mannington Middle being closed today buses traveling North will be about 10 minutes early today for drop off.

Blackshere families: There is no afterschool for Wednesday 5/4/22.

Blackshere Families just a reminder that buses are running late due to road construction on Rt 250.

Blackshere Families - Due to road work in front of North Marion High School, buses are running late this evening.

Blackshere families: Just a friendly reminder that Kindergarten Registration packets are due by Friday March 11th.

Picture Day for Blackshere Elementary is 03/03/2022, mark your calendar! Ordering online is easy, visit inter-state.com/FlyerEntry/67798KF. Only those students who preorder will be photographed.

Picture Day for Blackshere Elementary is 03/03/2022, mark your calendar! Ordering online is easy, visit inter-state.com/FlyerEntry/67798KF. Only those students who preorder will be photographed.

Picture Day for Blackshere Elementary School is scheduled for Thursday, March 3, 2022. Only students prepurchasing spring pictures will be photographed. Ordering online is easy! Visit inter-state.com/order and enter the Picture Day event's Order Code 67798KF when ordering.

Tomorrow, Friday the 18th there will be no school for students. It is a Professional Learning day for Staff. Have a great weekend!

Blackshere Elementary: Kindergarten's 100th day of school is Friday the 11th of February. Students can dress like they are 100 years old.