Our Mission: The Office of Technology will provide the highest quality technology-based services, in the most cost-effective manner. Our goal is to provide secure, reliable, and integrated technology solutions in alignment with academic and administrative goals of Marion County Schools.
The technology department of Marion County Schools has undergone tremendous changes during the 2017/2018 school year. This includes network administration, software installation, planning and management of Marion County Schools technology life cycle and the study, design, development, application, implementation, support and management of computer based information systems.
Marion County Schools is fortunate to have five technicians working daily in the county. This team brings years of expertise to Marion County and we are fortunate to have them.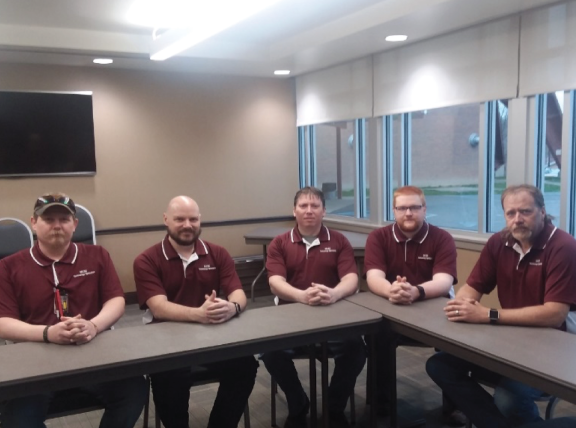 From Left to Right: Richard Stanley, Allen Canfield, Keith Davis, Mitchel Georg, and Eric Georg
Richard Stanley was born and raised in Marion County where he still resides. He has been an IT/Computer Technician for the past 16 years. He has serviced 12 counties plus 12 SPOKES & ABE Programs in West Virginia while working for RESA 7. Richard has been contracted in Marion Co. for the past five years working in the North Marion attendance area. He has a son named Ryan and wife Elissa. He has two dogs, a chocolate Lab named Sampson and a Jack Russel named Molli. He enjoys the outdoors and hunting/fishing.
Keith Davis is a Graduate of Alderson Broaddus College and resident of Fairmont. He has been a technician in Marion County Schools for the last 6 years and a technician in the state school system for 24 years. He has a 4-year degree in computer science and graduated as salutatorian of his high school class. He has been trained by IBM, Pomeroy, and RESA on the Cisco, Nortel, and Meraki networks currently running in all the schools of Marion County. As desk side technician, he also works on the laptops, desktops, and servers in the county.

Mitchel Georg has studied in the technology field since early 2006 when he attended his counties Technical Center and passed his Aries Technology Courses with a 98% average. He was a member of the National Honor Society. In 2009 he worked for RESA 7 as a technician in Tucker County. He was later brought into Marion County as a RESA 7 technician where he currently takes care of the Fairmont Senior area and has worked on over 20,000 machines to date. He is the oldest of 2 brothers and 2 sisters. His father is Eric Georg who currently takes care of the East Fairmont area.

Eric Georg brings 30 years' experience to the technology department for Marion County schools. He holds an Associates' Degree in Computer Information Management. He resides in Garrett County with his wife Melissa and three children Matthew, Ariel and Abbi. He is the Father to another of our Marion County Technicians, Mitchel Georg. Eric pastors a local church in his hometown and has brought many implementations to our current Network infrastructure in Marion County.

Allen Canfield is the onsite system engineer at the NOC center located at West Fairmont Middle School. He works for Alpha Technologies. He monitors and keeps the network running for Marion County Schools.